Benefits Of Virgin Coconut Oil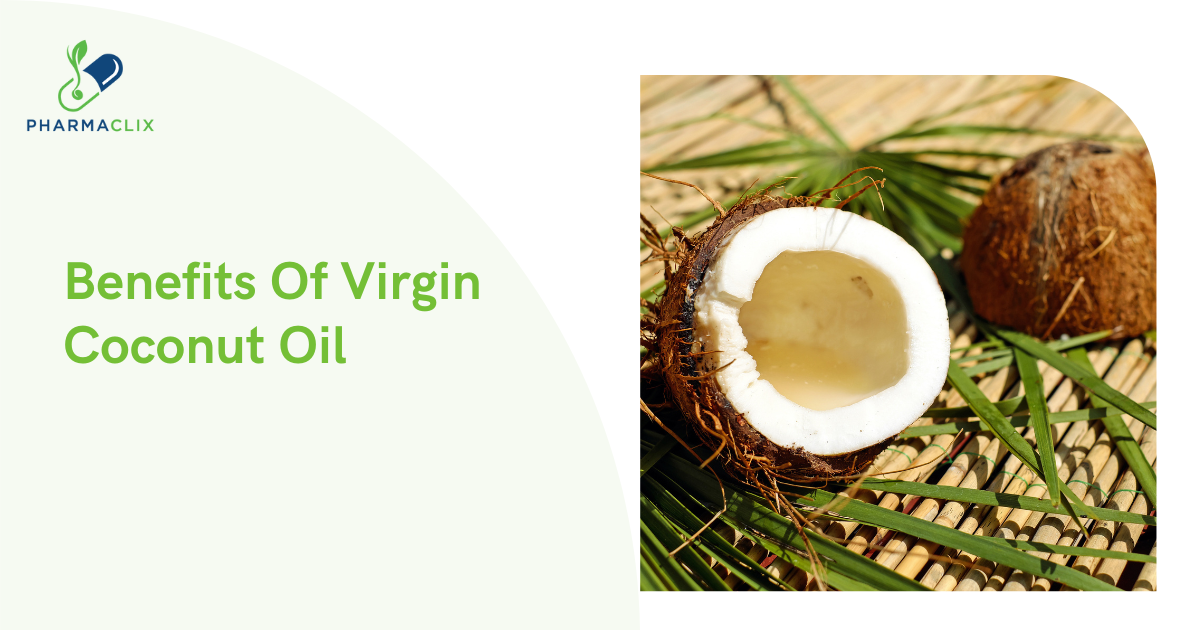 Good for the Heart- It helps in maintaining cholesterol levels and normalizes high blood pressure. Also reduces inflammation of arteries. Natural saturated fats promote heart health and reduce the risk of heart disease.
Stronger Hair- Coconut oil helps to protect your hair from damage. If you experience dandruff or have dry hair, coconut oil contains fatty acids that can help.
Moisturises Skin- For your legs, arms, and elbows, coconut oil is a fantastic moisturiser. You may also apply it to your face. It can also aid in the healing of cracked heels.
Dental Health- Coconut oil is one of the many excellent oils to pull because of the presence of MCTs. Swishing with coconut oil regularly can decrease inflammation and plaque gingivitis.
Weight Loss- It boosts the metabolism rate of the body, is simple to digest, and aids in the proper functioning of the thyroid and endocrine glands. This way it naturally aids in reducing weight.
Boosts Immunity- The Lauric acid in coconut oil is transformed into monolaurin, which aids in the fight against germs and viruses, preventing illness and disease.
Improves Digestion- It prevents IBS (Irritable Bowel Syndrome). It contains saturated fats, which have antibacterial characteristics and helps in the treatment of bacteria, fungus, and parasites that cause dyspepsia.
There is no surprises that coconut is one of the most versatile and beneficial oil available out there. The numerous exceptional benefits provided by coconut oil are a blessing for us. It can be used to treat skin and hair issues. No wonder more and more people are becoming fans of coconut oil.
Fun Fact About Coconut Oil:
1. The name coconut comes from the Old Portuguese word coco, meaning "head" or "skull".
2. More than 75% of coconut supply come from Indonesia, the Philippines, and India combined.
3. There are 2 varieties of coconut oil" Refined coconut oil "and "Virgin coconut oil".
Get to Know More About Virgin Coconut Oil (VCO)
The purest form of coconut oil prepared from fresh meat of the mature coconut and coconut milk is called virgin coconut oil. The oil extraction process may not need a heating procedure at all. And at the same time, it does not involve any chemical processing that helps to retain natural qualities with the oil. It is known to have a treasure trove of vitamins, minerals, and antioxidants that imparts good health.
VCO may seem similar to regular coconut oil. They share a similar fatty acid content, but virgin coconut oil contains much higher amounts of vitamin E and bioactive compounds like polyphenols.
Nutritional Facts of VCO
Vitamin C and vitamin E
Fatty acids – Lauric Acid or Medium Chain Triglycerides (MCTs), myristic acid, etc.
Antioxidants
Proteins